At TVD, we take our customer service seriously. If you have any problems with this web site, your order, or the service we provide then please contact us and we will try and rectify it. We want you to be a very satisfied customer.
Please read on to understand our customer service policies and initiatives.
How To Order
To place an order on this web site is a simple manner of browsing the products until you find what you are looking for.
If a product can be purchased, an "Add to Cart" or "Purchase Button" will appear next to the product.
By clicking this button you can add as many items as you like into your cart before clicking on a "Checkout" link or button to finalise your purchase.
Payment Methods We Accept
PayPal and Credit Card
Unfortunately, we no longer accept PayPal, and our PREFERRED card is AMEX, Visa Card and Master Card all without surcharge, via our SECURE order page.
Direct Deposit
TVD offers direct deposit as a payment option and we'll email you our direct deposit details on confirmation of your purchase. Once payment's confirmed we'll then ship the order.
Account
For our regular business clients we offer account as a payment option. If you would like to set up an account please contact Linda.
Delivery Charges And Time Frames Delivery Charges
Our delivery charges are based on the amount, volume and value of you purchase as well as your delivery destination and preferred delivery method. Your delivery charges are calculated and shown to you at the checkout stage of your purchase.
At the moment freight is LIMITED TO $25! However, should we will need to contact you if the freight calculations are incorrect, we'll contact you, and ask what you want us to do before processing your order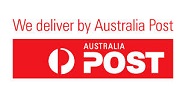 Australia Post
Please note that we make use of Australia Post e-Parcel service for better pricing. The cost of delivery can be calculated at their website
www.auspost.com.au
. We even remove excess packaging to make your delivery more affordable and easier to handle.
Delivery Time Frames
Our typical delivery turn around time ranges from 2 days to 10 business days depending on your location within Australia. We process orders 24x7 and ship Australia wide, by trackable e-Parcel from AusPost on Tuesdays and Fridays.
International orders are shipped out by air-mail, as soon as they are completely fulfilled.
Large machines, are shipped out, usually next business day, from the National Distribution Centre. IT IS YOUR RESPONSIBILITY TO ENSURE SOMEONE WILL BE IN ATTENDANCE, AND THERE IS A FORKLIFT or similar, TO UNLOAD THE MACHINE SAFELY
Correct International Delivery Address
Each country has their own addressing system and we're learning a lot about them all! Sometimes it means we have parcels returned to us even if they're addressed as provided in the order. We do our best to keep a track of returns, but can't guarantee how long it will take it get back to us.
International Orders
When sending orders internationally, we're required to declare the contents and value of the package for export purposes. Each country treats international purchases differently so we recommend you check out any local laws or costs that may be applicable when buying from TVD.
Security Measures
We employ extensive security measures using secure encrypted links and proven encryption methods to keep your payment details safe. Please visit our security page to read more about how to tell when it is safe to enter your payment details.
Returns Policy
This website is run under the terms of Australian Consumer Law  and your statutory rights apply.
Due to the nature of the product we supply, we only provide returns and replacement parts in limited situations where there was a problem with the product at the time it was delivered to you. We need to be notified of this within 3 days of your purchase arriving so we can arrange a replacement product or a refund.
In these instances, please contact us immediately to arrange pickup of your purchase.
We expect you as customer, to make a considered choice to buy.
We WILL NOT ACCEPT RETURNS if you simply change your mind. OR IF YOU HAVE ORDERED THE WRONG PARTS. It is your responsibility, to use the tools, i.e the partslists on this website to ascertain you are ordering the correct parts, or contact us on the Contact Us page for individual help. In the event of it being necessary to accept the goods back for return, a 25% Re-stocking fee will be made.
Within Australia
:
For Australia Post posted items, please keep the original packaging until you are satisfied with your purchase. If there is a problem you can repack the item and write RETURN TO SENDER on the packaging. This will avoid additional postal charges to you.
Product And Service Guarantees 
if you have a problem with your purchase, then we want to know about it so we can rectify the situation. We are happy to replace your order or provide a full refund where the product did not arrive in new and working condition.
We'll honour the manufacturer's warranty as stated on the product and assist you in making any warranty claims.
Privacy Information
We have a comprehensive online privacy policy that is explained on another page. Please view our Privacy Policy Here
How we can be contacted
We know that it is important to be able to be easily contacted if there are any issues, concerns or questions about your order or you experience any problems. Our full contact details including postal/physical address phone, fax and email addresses can be found on the Contact Us page